Geoffrey Bodine – 1986 Daytona 500 Winner
February 16, 1986 the 28th running of the "Great American Race"
Guess who won the pole position?  Yep, Bill Elliott with a qualifying speed of 205.039 Geoffrey Bodine was on the outside front row.  All the greats were in the pack, Terry Labonte, Dale Earnhardt, Darrell Waltrip and Richard Petty.  Dale Earnhardt would quickly get in the lead and would lead for 34 laps during the race.  On lap 197 Earnhardt was forced to pit for a shot of gas.
Video by: Nascar All Out
 Many say that the gamble on fuel would coast Dale Earnhardt the race, however it would allow Bodine to win with very little gas left.  Dale would take the 14th position.  Second place was Terry Labonte and third went to Darrell Waltrip.  1986 Daytona 500 winner…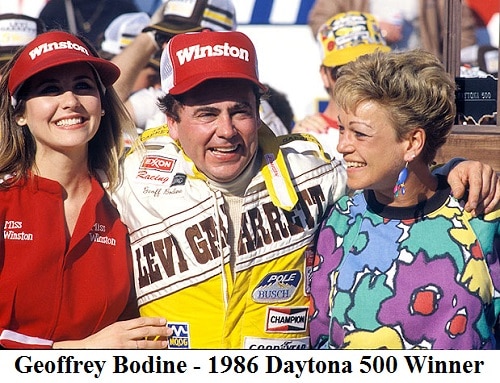 Geoff would go on to win the race at Dover in May and earned a spot on the pole 8 times in 1986.  Not to shabby at 37 years of age.  1979 was Geoff's first NASCAR race at age 30 and 2011 was his last at 62 years old.  In a 32 year NASCAR racing career he started 575 races, won 18 of them, had 100 top fives, 190 top tens and started on the pole 37 times.  He coulden't have asked for a better racing career, Geoff can stand proud of his efforts on and off the race track.
---
I am proud to bring you this site, after many years of wondering who won the Daytona 500 in a certain year or how many times did Richard Petty win?  I thought I couldn't possibly be the only one that has a need for a site like this.  So I made it.  If you found this site useful, please link to us or mention us on your racing related web site or social media.  Thank you very much.