Bill Elliott – 1985 Daytona 500 Winner
February 17, 1985 the 27th running of the "Great American Race"
Coming on strong from the start, Bill Elliot won the pole with a qualifying speed of 205.114 also winning his 125 qualifying race then dominating the first half of the race with Cale Yarborough in till Cale had engine troubles and had to call it a day.  It wasen't long when Richard Petty had to take it behind the wall, then Bobby Allison, then Benny Parsons, then A.J. Foyt and David Pearson went up in smoke.
Video by: Nascar All Out
With just 55 laps to go Lake Speed got the lead after NASCAR held Elliot in the pits to tape over a right side headlight, his pit stop time was 41 seconds he lost almost a complete lap.  At 34 laps to go Neil Bonnet gets a little help from Darrel Waltrip and they go to the front.  The last pit stop Elliot took all new rubber and Bonnet takes the gamble to skip the pit stop for a chance to win the race.  (It would cost him the race).  The 1985 Daytona 500 winner would be Bill Elliot.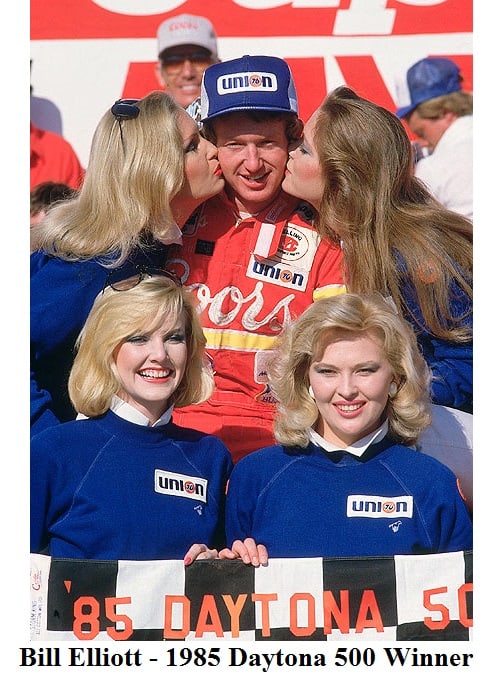 Bill not only won the race, he became the 3rd driver to win the Daytona Triple Crown.  Awesome Bill from Dawsonville would dominate the race leading 136 laps.  Bill was the first of the new generation of NASCAR drivers to win the Daytona 500.  Lake Speed would come in 2nd and 3rd would go to Darrell Waltrip.  1985 Daytona 500 winner…
---
I am proud to bring you this site, after many years of wondering who won the Daytona 500 in a certain year or how many times did Richard Petty win?  I thought I couldn't possibly be the only one that has a need for a site like this.  So I made it.  If you found this site useful, please link to us or mention us on your racing related web site or social media.  Thank you very much.