Cale Yarborough – 1984 Daytona 500 Winner
February 19, 1984 the 26th running of the "Great American Race"
Yarborough the first driver since Fireball Roberts to win the Daytona Triple crown by winning the pole, his qualifying race, and the Daytona 500 all the same year. Cale's pole speed of 201.848 mph is the first time a pole winner's speed exceeded 200 mph. Just as he did in 1983, Cale Yarborough slingshots past the leader down the backstretch on the final lap to take the win. Dale Earnhardt edges out Darrell Waltrip at the line for 2nd and Darrell, the leader at the white flag lap, has to settle for 3rd.
Video by: Nascar All Out
 One of the hottest Daytona 500's ever.  Only 7 cautions, 34 lead changes and 135,000 people in attendance.  Here comes Dale, Dale Earnhardt takes second to Cale Yarborough.  Dale in the #3 Richard Childress Chevrolet, sponsored by Wrangler Jeans.  The legend has begun.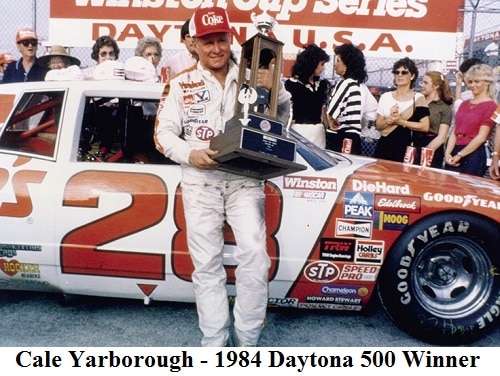 Cale started on the pole and he also won his 125 qualifier race.  Cale had a chance to win the Daytona triple crown since Fireball Roberts and he did just that.  Yarborough and Bobby Allison battled in the early laps.  Then it was Richard Petty wanting the lead, then came Dale Earnhardt.  Quite a day of racing with the top runners but Cale Yarborough would be the 1984 Daytona 500 winner.
---
I am proud to bring you this site, after many years of wondering who won the Daytona 500 in a certain year or how many times did Richard Petty win?  I thought I couldn't possibly be the only one that has a need for a site like this.  So I made it.  If you found this site useful, please link to us or mention us on your racing related web site or social media.  Thank you very much.