Bobby Allison – 1978 Daytona 500 Winner
February 19, 1978 the 20th running of the Daytona 500 – 1978 Daytona 500 Winner
After 15 attempts to win the great american race, finally Bobby Allison gets his spot in history as the 1978 Daytona 500 winner.  Heavy rains all week proved to be problematic for the beging of the race.  On lap 60 Richard Petty cut an inside rear tire and Darrell Waltrip, David Pearson and Petty all crashed to the inside wall.  The first, second and third place cars were all out.
Video by: Nascar All Out
Cale Yarborough and Darrell Waltrip traded the led 6 times in the first 10 laps.  Towards the end of the race it was Bobby Allison and Buddy Baker.  Then Baker blew an engine, he was out.  Bobby Allison would go on to take the checkered flag to win the Daytona 500 for 1978.  His first Daytona 500 of his career.  Great job Bobby!!  The 1978 Daytona 500 winner…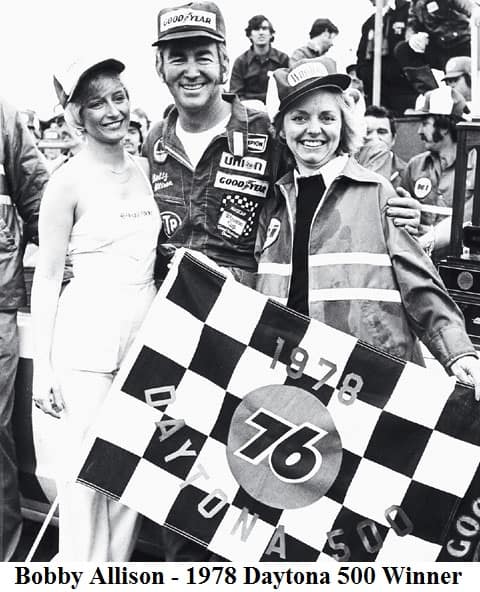 Bobby Allison one of the Alabama gang.  Racing many races on the short tracks. In 1961 Bobby came to Daytona for the first time.  Not until 1978 would he win the big one.  Named one of NASCAR's top 50 drivers.  Quite an honor, not to mention being inducted in the NASCAR Hall Of Fame in 2011.  Bobby Allison would win a total of three Daytona 500's and many other NASCAR races.  The Daytona 500 wins –  1978, 1982 and 1988 –
---
I am proud to bring you this site, after many years of wondering who won the Daytona 500 in a certain year or how many times did Richard Petty win?  I thought I couldn't possibly be the only one that has a need for a site like this.  So I made it.  If you found this site useful, please link to us or mention us on your racing related web site or social media.  Thank you very much.