Cale Yarborough – 1977 Daytona 500 Winner
February 20, 1977 the 18th running of the Daytona 500 – 1977 Daytona 500 Winner
For the first time in Daytona 500 history a female driver would start the race, Janet Guthrie. She would start 39th and finish the race a respectable 12th place.  Not bad Janet.  Cale Yarborough would start in 4th and go on to be the 1977 Daytona 500 winner.  Good job Cale.
Video by: Nascar All Out
After 30 lead changes among 10 drivers, running 37 laps under 6 cautions and an average speed of 153.218 – Cale Yarborough took the checkered flag in front of Benny Parsons and Buddy Baker.  Coo Coo Marlin would come in 4th place.  But Janet Guthrie would be the first woman to make the Daytona 500.  Janet was a great race car driver and a trend setting asset to the sport of NASCAR racing.  She paved the way for other females to realize it can be done…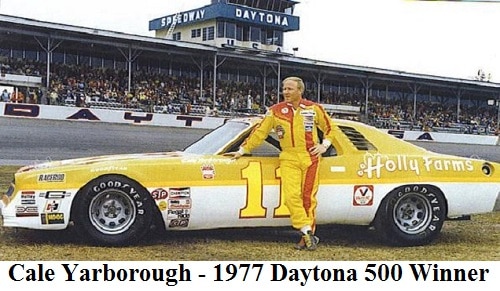 Cale was the second NASCAR driver in history to be on the cover of Sports Illustrated Magazine.  The first being Curtis Turner on the February 26th 1968 issue.  Cale won the Daytona 500 four times, the first win in 1968 for the Wood Brothers, the second in 1977 and back-to-back wins in 1983 and 1984.  The Daytona 500 is one of the hardest races on the NASCAR circuit to win and Cale Yarborough did it 4 times!  GO CALE!!
---
I am proud to bring you this site, after many years of wondering who won the Daytona 500 in a certain year or how many times did Richard Petty win?  I thought I couldn't possibly be the only one that has a need for a site like this.  So I made it.  If you found this site useful, please link to us or mention us on your racing related web site or social media.  Thank you very much.