David Pearson – 1976 Daytona 500 Winner
February 15, 1976 the 17th running of the Daytona 500 – 1976 Daytona 500 Winner
One of the craziest and slowest finishes in Daytona 500 history as Richard Petty and David Pearson get together coming off turn four on the final lap. They both loose control and crash the outside wall and spin down into the infield with Petty's car stopping just 200 feet shy of the finish line. David Pearson is able to keep his mangled #21 Purolator car running and limp across the finish line to capture his only Daytona 500 victory.
Video by: Nascar All Out
Darrell Waltrip wins his qualifying race as does Dave Marcis in the Duels.  A.J. Foyt was credited with leading the most laps of the race at 66 and USAC stock car racer Ramo Stott won the pole position.  The average speed was 152.0181 – The attendance was over 130,000 spectators.  The weather was perfect and the 1976 Daytona 500 was a huge success.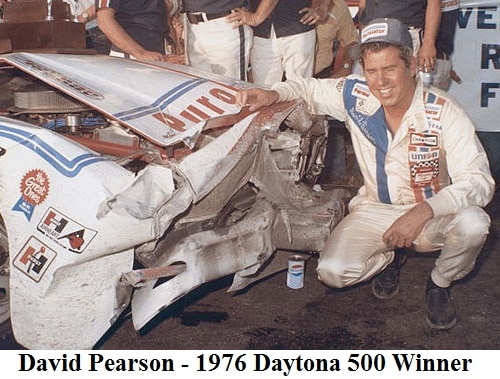 David Pearson was the first driver to break the 190 MPH barrier at Daytona. It was in qualifying he had a qualifying lap of 190.029 MPH.  Then he went on to win his 125-mile qualifying race.    In Pearson's 27 year Nascar career he only entered 572 races, out of which he won 105, and placed top five 301 times. In 1968 Pearson won 16 races out of 48 at the age of 33.  Pearson was the NASCAR Winston Cup Champion in 1966, 1968 and 1969.
---
I am proud to bring you this site, after many years of wondering who won the Daytona 500 in a certain year or how many times did Richard Petty win?  I thought I couldn't possibly be the only one that has a need for a site like this.  So I made it.  If you found this site useful, please link to us or mention us on your racing related web site or social media.  Thank you very much.