Benny Parsons – 1975 Daytona 500 Winner
February 16, 1975 the 16th running of the Daytona 500 – 1975 Daytona 500 Winner
The STP Dodge of Richard Petty quickly jumped in the lead for many laps until Buddy Baker slipped in front of him and lead for 46 laps until David Pearson took his turn leading. At the end Benny Parsons slipped in front of everybody to be the 1975 Daytona 500 winner and enjoy his third career win.
Video by: Nascar All Out
The pole sitter Donnie Allison had a qualifying speed of 185.827, he would finish in the 28th position after having fuel pump troubles.  Richard Petty started in the 4th position and finished 7th having led 51 laps.  About 25% of the field was taken out of the race after Jim Vandiver spun-out creating a big one.  One quarter of the field was taken out.  I guess it is a good idea to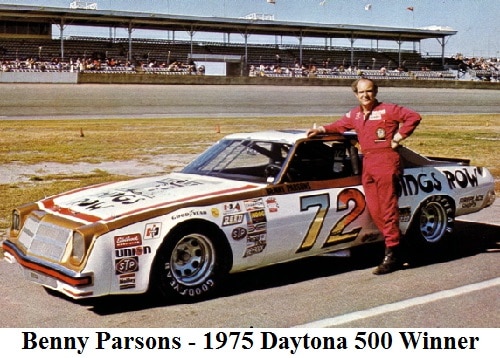 Benny Parsons raced in the Daytona 500 20 times from 1969 to 1988.  He finished 2nd twice.  He finished 3rd twice, he finished 4th once and he finished 5th twice.  Benny was Inducted in the International Motorsports Hall of Fame in 1994.  He was named as one of NASCAR's 50 Greatest drivers in 1998.  Benny started announcing as a pit reporter in the 1980's on ESPN and TBS while he was still racing part-time.  The 1975 Daytona 500 winner Benny Parsons…
---
I am proud to bring you this site, after many years of wondering who won the Daytona 500 in a certain year or how many times did Richard Petty win?  I thought I couldn't possibly be the only one that has a need for a site like this.  So I made it.  If you found this site useful, please link to us or mention us on your racing related web site or social media.  Thank you very much.