Richard Petty – 1974 Daytona 500 Winner
February 17, 1974 the 15th running of the Daytona 500 – 1974 Daytona 500 Winner
In the history books as one of the most competitive races ever, there were 60 lead changes in the shortened Daytona 500 (due to the gas shortage). (NASCAR wanted to do their part so the race was shortened by 10%).  With 19 laps to go Petty running second gets a cut tire and is forced to pit.  Taking a little pressure off of Donny Alison.  Until he too got a flat tire.
Video by: Nascar All Out
 David Pearson started on the pole and finished 35th.  Richard Petty started in the second position and won the show.  Cale Yarborough would come in 2nd place with Ramo Stott getting 3rd.  Coo Coo Marlin ended up in 4th and AJ. Foyt in 5th.  The 40th place belonged to the one and only Richard Childress.  The 1974 Daytona 500 winner – Richard Petty!!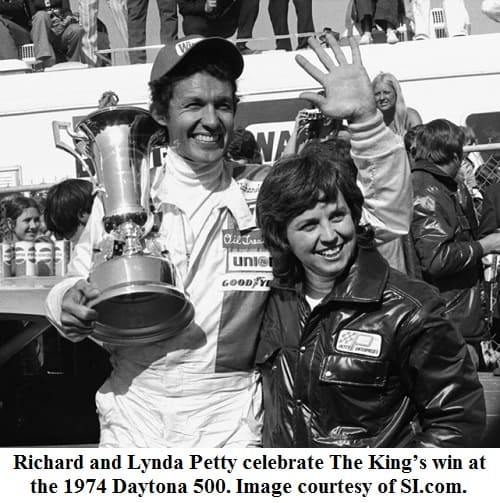 Richard Petty once said of his high school sweetheart: "There was a freshman cheerleader named Lynda Owens. She was the prettiest thing I'd ever seen."  Lynda Owens Petty also known as the first lady of NASCAR.  What a team they were, Lynda would be at home raising four kids and Richard would be off at the races, (earning a living).  Many times when they could, the whole family would attend the races.  "A true American racing family".
---
I am proud to bring you this site, after many years of wondering who won the Daytona 500 in a certain year or how many times did Richard Petty win?  I thought I couldn't possibly be the only one that has a need for a site like this.  So I made it.  If you found this site useful, please link to us or mention us on your racing related web site or social media.  Thank you very much.