AJ Foyt – 1972 Daytona 500 Winner
February 20, 1972 the 14th running of the Daytona 500 – 1972 Daytona 500 Winner
AJ Foyt is the only driver to win the Daytona 500, the Indianapolis 500, the 24 hours of Daytona and the 24 hours of Le-mans.  He also won at Indy 4 times.  The 1972 500 has the credit of being the race which had the fewest number of leaders for a NASCAR race held at Daytona with only 3 drivers, Foyt, Richard Petty, and Bobby Allison leading a lap during the show.
Video by: Nascar All Out
 The average speed was 161.550 – A.J. driving a 1971 Mercury for the Wood brothers, led 167 laps, sponsored by Purolator.  With only 6 starts in 1972 he won twice and still cashed in over $100,000 in prize money for the first time in his career.  Foyt started racing in the Nascar series part time in 1963 and his last season was 1994.  The 1972 Daytona 500 winner…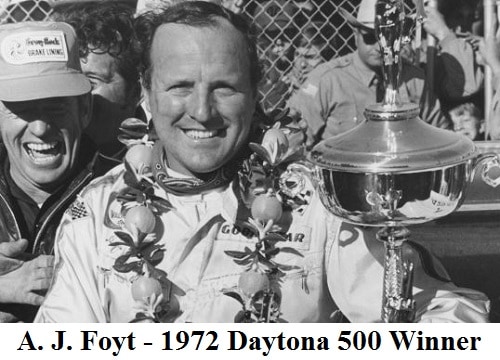 A little A. J. trivia by: FoytRacing.com
Biggest payday: earned $252, 278 when he won Indy for the fourth time.  – Smallest payday: earned $71.25. He finished 24th in Indianapolis Raceway Park 150 Indy car race. Started 13th and dropped out after 5 laps.  – Most lucrative season: earned $578,744  – Least lucrative season: 1957 — earned $2,171.  –  Most victories at paved track: 12 at Trenton (NJ) Speedway  –  Most victories at dirt track: 6 at Indiana State Fairgrounds.  –  Most starts at same track: 45 at Milwaukee.  –  First victory: 100 mile race at DuQuoin, Il. on September 5, 1960. Started 4th in Bowes Seal Fast No.5, beat Tony Bettenhausen Sr. (the  original) to win  $5,165 in only A.J.'s 34th start.  – First lap led: Milwaukee 100 on June 5, 1960. Led laps 78-81. Started 4th in Bowes Seal Fast No.5. finished second. Earned $4,228 in his 30th start.  –  Clean Sweeps (win pole and race): 22 – Final Indy car race: 1992 Indianapolis 500 on May 24. Started 23rd (fastest second day qualifier) and finished ninth with 195 laps. Earned $189,883 in his 35th consecutive Indy 500.
---
I am proud to bring you this site, after many years of wondering who won the Daytona 500 in a certain year or how many times did Richard Petty win?  I thought I couldn't possibly be the only one that has a need for a site like this.  So I made it.  If you found this site useful, please link to us or mention us on your racing related web site or social media.  Thank you very much.