Richard Petty – 1971 Daytona 500 Winner
February 14, 1971 the 13th running of the Daytona 500 – 1971 Daytona 500 Winner
1971 was a year of major changes in NASCAR.  The days of the factory teams were mostly over, only Petty enterprises had Chrysler money backing it and Ford had withdrawn it's backing from everyone.  The NASCAR Grand-national championship would now be known as the Winston Cup, from the sponsorship of R. J. Reynolds Tobacco Company.  The sponsorship would last a long time.  26 years to be exact.
Video by: Nascar All Out
The winged cars that were so prominent in the 70's were now limited to a 305 Cubic Inch engine and only 1 was entered in the 1971 Daytona 500.  This was also the first year for the restrictor plate to help keep speeds down.  A. J. Foyt would earn the pole position to start the race.  Maynard Troyer takes a set of nasty barrel rolls down the backstretch, he was O.K.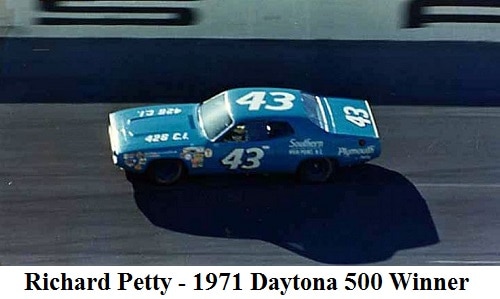 Richard Petty wins the Daytona 500 for the third time!  Petty Enterprises comes in 1 and 2.  Second place was Buddy Baker.  This was the 120th NASCAR win for the "King" Richard Petty, he would go on to win 80 more races in his career.  Not to mention a total of 7 Winston Cup Championship wins.  You might say he is a force to be reckoned with!  The 1971 Daytona 500 Winner…
---
I am proud to bring you this site, after many years of wondering who won the Daytona 500 in a certain year or how many times did Richard Petty win?  I thought I couldn't possibly be the only one that has a need for a site like this.  So I made it.  If you found this site useful, please link to us or mention us on your racing related web site or social media.  Thank you very much.