Pete Hamilton – 1970 Daytona 500 Winner
February 22, 1970 the 12th running of the Daytona 500 – 1970 Daytona 500 Winner
The year of the WINGS.  The 1970 Great American Race would be the year for that famous winged spoiler.  The Plymouth Super Bird and the Dodge Daytona would both sport the wild looking wing.  23 entries in all would be trying the new aerodynamic feature. Cale Yarborough would start on the pole with a qualifying speed of 194.015.
Video by: Nascar All Out
 Interesting:  Almost half way in to the video Charlie Glotzbach gets black flagged for not getting the gas cap back on the gas tank.  An official saw the cap dangling as he exited the pits.  He still finished 4th.  Pete Hamilton earned the title of the 1970 Daytona 500 winner  in a 1970 winged Plymouth Superbird.  David Pearson finished 2nd in a Ford and Bobby Allison 3rd in a Dodge.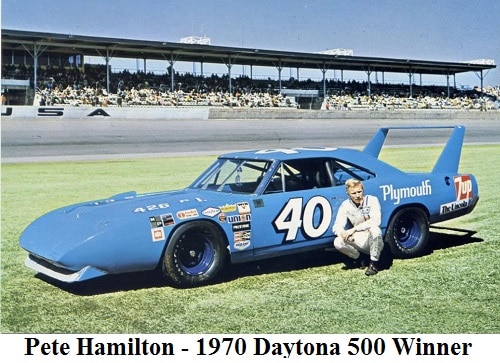 Hamilton's talent really began to strive when he ventured South at the end of the 67 season. He earned the 1968 Grand National Rookie of the Year title and went on to win 12 of 26 Grand American Division races in 1969.  With 64 NASCAR Grand National starts, Pete showed impressive results. He scored 33 Top Ten finishes, 26 Top Fives, and 4 Wins along with 3 Pole Positions.  Fun Fact: Pete Hamilton was the very first driver to win $100,000 on a super speedway in one season.  The 1970 Daytona 500 Winner…
---
I am proud to bring you this site, after many years of wondering who won the Daytona 500 in a certain year or how many times did Richard Petty win?  I thought I couldn't possibly be the only one that has a need for a site like this.  So I made it.  If you found this site useful, please link to us or mention us on your racing related web site or social media.  Thank you very much.