Mario Andretti – 1967 Daytona 500 Winner
February 26, 1967 the ninth running of the Daytona 500 – 1967 Daytona 500 Winner
The "Great American Race" in 1967 produced a surprise winner, To this day the race is considered by many as one of the top 5 upsets in The Daytona 500 history.  Mario Andretti consistently ran over 180 MPH, he had the power that day.  There were 9 yellow flags and out of 50 cars that started the race only 18 crossed the finish line to take the checkered flag.
Video by: Nascar All Out
Most Americans, even ones that do not follow racing have heard the name Mario Andretti.  Some believe that it's because he is the only person ever to have won the Formula One World Championship, Indianapolis 500 and the Daytona 500.  Andretti proudly led 112 of the 200 lap race and enjoyed what would be his only Daytona 500 win.  Fred Lorenzen came in second.  1967 Daytona 500 Winner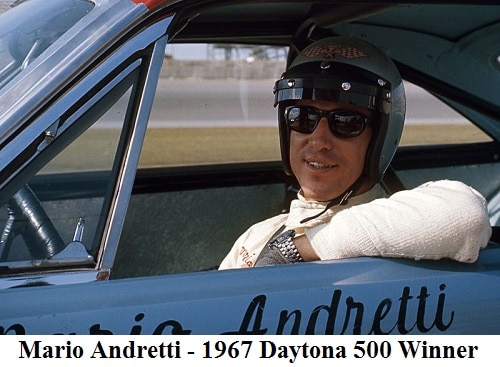 Mario has 109 major sanctioning career wins.  Only two race drivers have ever won a race in the Nascar Cup series, the Formula One and the Indianapolis 500.  Mario Andretti and Juan Pablo Montoya.  Mario was one of twins his brother Aldo Andretti would enjoy racing in the sportsman modified series in 1959.  Without their parents knowledge, until late in the season Alto was seriously injured.  Mom and Dad were not happy to say the least.
---
I am proud to bring you this site, after many years of wondering who won the Daytona 500 in a certain year or how many times did Richard Petty win?  I thought I couldn't possibly be the only one that has a need for a site like this.  So I made it.  If you found this site useful, please link to us or mention us on your racing related web site or social media.  Thank you very much.