Richard Petty – 1966 Daytona 500 Winner
February 27, 1966 the eighth running of the Daytona 500 – 1966 Daytona 500 Winner
The ban on the Chrysler Hemi and the ford high rise engines was lifted and Richard Petty became the first repeat winner of the great American race.  Once again for the second year in a row the race was shortened by rain, running 198 laps when the checkered flag dropped.
Video by: Nascar All Out
 Tire troubles plagued many cars and a few even had their day shortened by broken windshields from pieces of rubber flying off of tires.  Richard Petty managed to avoid any tire problems or damage from debris by rim riding.  He got up in the high grove and stayed there.  1966 Daytona 500 Winner!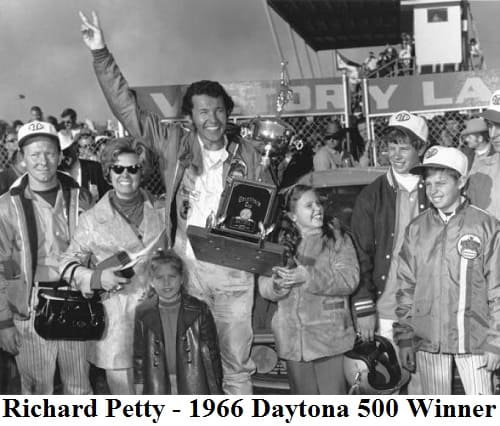 Richard Petty Racing At Nashville:
A 250 mile race at Nashville in 1966 will give you a better perspective of how dominating Petty and his '66/'67 blue Plymouth was. Early in the race he blew a tire and hit the wall knocking the front end out of alignment and breaking a rear spring. The pit crew wanted to park the car and work on getting ready for the next week but Richard wouldn't have it. They took a guess at the front end alignment and tightly wrapped wire on the broken spring, Petty got back in the race seven laps down. YES, Petty won the race!  He was amazing!
I am proud to bring you this site, after many years of wondering who won the Daytona 500 in a certain year or how many times did Richard Petty win?  I thought I couldn't possibly be the only one that has a need for a site like this.  So I made it.  If you found this site useful, please link to us or mention us on your racing related web site or social media.  Thank you very much.