Fred Lorenzen – 1965 Daytona 500 Winner
February 14, 1965 the seventh running of the Daytona 500 – 1965 Daytona 500 Winner
From the second row outside, Fred Lorenzen won the Daytona 500.  As an indirect result of a number of deaths in 1964, Nascar has come up with some new rules to decrease the speed of the cars, improve safety as well as bring the cost down.  Chrysler's Hemi and Fords high rise engines were ban from competing.  As a result Chrysler boycotted the 1965 Daytona 500.
Video by: Nascar All Out
The first ever rain shortened Daytona 500. The hemi engine that was so dominant during the 1964 season was banned from the 500 this year, as a result, Chrysler boycotts the race and many stars including Richard Petty were absent from the race. Fred Lorenzen is able to stay ahead of Marvin Panch as the two drivers get together just as the caution flag drops for rain on lap 129.  1965 Daytona 500 winner…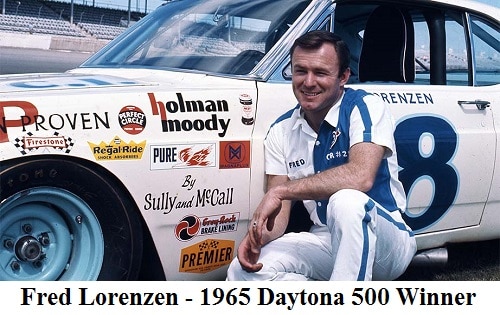 Freddie and crew had a fuel strategy that he explained to announcer Dan Gurney before the race. (see video).  Using a different gear ratio, a 3.00 to 1 for lower RPM – About 5300 compared to most others that are turning about 7000 RPM.  Needing only 4 pit stops instead of 5.  However that would make him run approximately 2 MPH slower than the leaders so he would be required to stay in the draft.
I am proud to bring you this site, after many years of wondering who won the Daytona 500 in a certain year or how many times did Richard Petty win?  I thought I couldn't possibly be the only one that has a need for a site like this.  So I made it.  If you found this site useful, please link to us or mention us on your racing related web site or social media.  Thank you very much.