Richard Petty – 1964 Daytona 500 Winner
February 23, 1964 the sixth running of the Daytona 500 – 1964 Daytona 500 Winner
The race was won by 1 lap and 9 seconds over the second place car by Richard Petty in a dominating fashion.  Jimmy Pardue and Paul Goldsmith, also running Hemi's, finishing second and third. Petty lead for most of the race.  This would be the first of seven Daytona 500 victories logged by "The King".
Video by: Nascar All Out
At the age of 26 Richard Petty led the race for 184 laps and lapped the second place car by the half way point and just dominated the show.  Plymouth dominated the field to finish first, second and third.  (fun fact) – Ralph Earnhardt finished 19th in this Daytona 500.  The Daytona 500 was becoming the place to be in February of every year.  1964 Daytona 500 winner…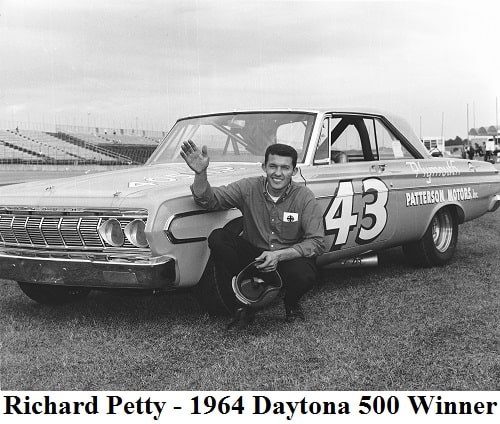 Richard Petty was on his way to becoming one of Nascar's biggest stars.  In his seventh year of racing he won his first of a record setting seven Daytona 500 wins.  Richard will rack up a record 200 wins in his total career in the Nascar series.  He won NASCAR Rookie of the Year in 1958, after he placed 9 top 10 finishes, including 6 Top 5 finishes.  (fun fact) – In Lakewood Georgia in 1959 Petty won his first race but his father Lee Petty protested and due to a scoring error was awarded the win instead of Richard, Wow!
---
I am proud to bring you this site, after many years of wondering who won the Daytona 500 in a certain year or how many times did Richard Petty win?  I thought I couldn't possibly be the only one that has a need for a site like this.  So I made it.  If you found this site useful, please link to us or mention us on your racing related web site or social media.  Thank you very much.