Tiny Lund – 1963 Daytona 500 Winner
February 24, 1963 the fifth running of the Daytona 500 – 1963 Daytona 500 Winner
Marvin Panch was involved in a fiery wreck in a sports car race two weeks before the 500, Tiny Lund (a behemoth of a man weighing nearly 300 pounds and standing 6'6″) jumps into action and pulled the driver from his burning car. Panch, still recovering from his injuries, convince the Wood Brothers to run Lund in the 500 where he would go on to beat Fred Lorenzen by 24 seconds.
Video by: Nascar All Out
The 1963 Daytona 500 would attract some open-wheel racers too. A.J. Foyt, Parnelli Jones and Johnny Rutherford. It was a cold and rainy day in Daytona that day and the first 10 laps were run under a caution flag to help dry the track.  An average speed of 151.566 was set and the pole setter Fireball Roberts led only 11 laps the whole day.  Tiny would run out of gas in turn 4 coming for the checkered flag and coasted to take the win.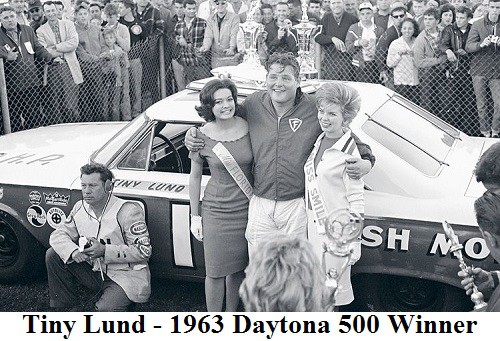 Everybody had a story about Tiny.  Buddy Baker, Cale Yarborough, David Pearson and more.  Tiny was always playing jokes and cutting up.  The cheetah – The Alligator – The cherry pie.  From 1968 to 1973 Lund won 41 out of 109 races and 3 championships.  From UltimateRacingHistory.com they have Tiny Lund winning 12 out of 13 races in 1970, that's impressive.  Tiny was a true champion.  1963 Daytona 500 winner…
---
I am proud to bring you this site, after many years of wondering who won the Daytona 500 in a certain year or how many times did Richard Petty win?  I thought I couldn't possibly be the only one that has a need for a site like this.  So I made it.  If you found this site useful, please link to us or mention us on your racing related web site or social media.  Thank you very much.