Fireball Roberts – 1962 Daytona 500 Winner
February 18, 1962 the fourth Daytona 500 – 1962 Daytona 500 Winner
Once again the race went green flag to checkered with out one caution flag.  Fireball Roberts dominated the race and lead 144 of the 200 laps.  The win was Roberts' second victory of the season.  A record braking 152.529 mph average speed…  Roberts and his crew were delighted to have broken the curse of not being able to finish the last 3 Daytona 500's.  Not anymore!
Video by: Nascar All Out
 Glen "Fireball" Roberts is the winner of the 1963 Daytona 500. After a disappointing previous 3 Daytona 500's, his crew-chief Smokey Yunick builds a car that Fireball is not able to break during the race. Fireball would go on to defeat Richard Petty by 27 seconds. This was Fireball Roberts biggest victory in his racing career that was tragically cut short the very next year in 1964.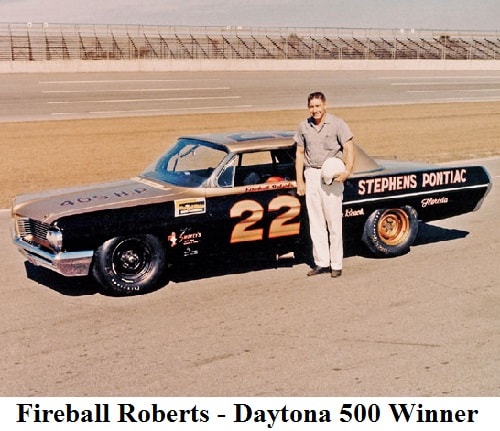 Fireball – (fun fact) Glenn Roberts got his nick name in high school for the way he would blaze the baseball over home plate as the star pitcher.  He was defiantly a force to be recon'd with. In his 15 year career he managed to rack up 33 wins in the Nascar racing series.  In 1958 he raced in only 10 races however he took the checkered flag on 6 of them.  Glenn "Fireball" Roberts was the 1962 Daytona 500 winner…
---
I am proud to bring you this site, after many years of wondering who won the Daytona 500 in a certain year or how many times did Richard Petty win?  I thought I couldn't possibly be the only one that has a need for a site like this.  So I made it.  If you found this site useful, please link to us or mention us on your racing related web site or social media.  Thank you very much.