Marvin Panch – 1961 Daytona 500 Winner
February 26 1961 welcomed the third Daytona 500 – 1961 Daytona 500 Winner
Once again like the very first Daytona 500 in 1959 this one went green flag to checkered flag without a caution, accident or mishap.  Fireball Roberts qualified for the pole position.  Marvin Panch would find victory lane and this would turn out to be Marvin Panch's only win for the 1961 racing season.
Video by: Nascar All Out
The average speed ended up being 149.601 –   Marvin Panch captured the lead with 13 laps remaining when Fireball Roberts' car suffered a blown engine.  Qualifying, testing and practice laps – Unfortunate circumstances clouded the track during the preliminaries of Daytona Speedweeks when a driver from Phoenix Arizona crashed in turn 3 of the 2.5 mile track. Harold Haberlingwas was killed when his 1955 modified Chevy flipped in the 31 degree banking.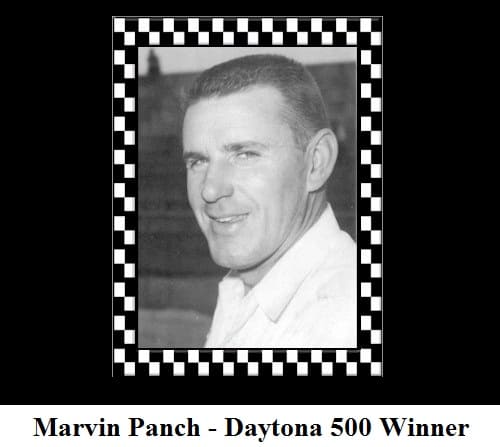 Marvin Panch's career started in 1955 driving for a Pennsylvania car dealer.  During that time Panch ran very successful, beating out qualifying and running constantly faster than the (Ford) factory cars.  As it turns out Panch was offered a gig driving a Ford for Pete DePaolo.  Ford was an early pioneer in the world of NASCAR racing.
Panch won his first Grand National race on July 20, 1956 in Alabama.  Panch won the pole and dominated the 100-mile event, finishing a lap ahead of Buck Baker.  Those were the days…
---
I am proud to bring you this site, after many years of wondering who won the Daytona 500 in a certain year or how many times did Richard Petty win?  I thought I couldn't possibly be the only one that has a need for a site like this.  So I made it.  If you found this site useful, please link to us or mention us on your racing related web site or social media.  Thank you very much.