Junior Johnson – 1960 Daytona 500 Winner
The second Daytona 500 was on February 14, 1960 Daytona 500 Winner
Dramatically different than the first Daytona 500, the second 500 would prove that drivers and mechanics were figuring out how to attack the high-bank super speedway.  Fireball Roberts would sit on the pole having broken the 150 MPH barrier in qualifying.  After only running 51 laps Fireball Roberts was out of the race with engine problems.  The father and son team of Lee & Richard Petty finished 3rd and 4th.
Video by: Nascar All Out
The average speed ended up being 124.74, much slower than the first because of all the wrecks and caution flags.  By the end of the race a third of the field was out.  With only 9 laps to go Junior Johnson took the lead and won the second Daytona 500 over Bobby Johns by 23 seconds.  Johnson took home the prize money totaling $19,600 for winning the Daytona 500 in 1960.  Junior Johnson soon became a car owner and won the Daytona 500 two more times.  They may have not realized it but the good old boys of stock-car racing had started something big…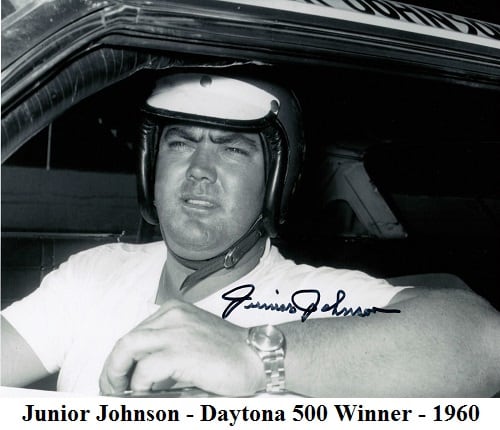 Junior Johnson won 50 NASCAR grand national races in his successful career, then he retired as a driver in 1966.  He went on to be a successful race car owner.  From 1966 to 1995 Junior worded with legend drivers including:  Darel Dieringer, LeeRoy Yarbrough, Cale Yarborough, Bobby Allison, Darrell Waltrip, Neil Bonnett, Terry Labonte,Geoffrey Bodine, Sterling Marlin, Jimmy Spencer and Bill Elliott. 139 races were won by these drivers.  1960 Daytona 500 winner
---
I am proud to bring you this site, after many years of wondering who won the Daytona 500 in a certain year or how many times did Richard Petty win?  I thought I couldn't possibly be the only one that has a need for a site like this.  So I made it.  If you found this site useful, please link to us or mention us on your racing related web site or social media.  Thank you very much.