Lee Petty – 1959 Daytona 500 Winner
The very first Daytona 500 was on February 22, 1959 Daytona 500 Winner
It was a photo finish, between Lee Petty and Johnny Beauchamp.  In victory lane Beauchamp celebrated the victory, however after Petty challenging the results and three days of reviewing photos, Lee Petty was declared the winner of the very first Daytona 500.  It was rumored that Nascar kept the controversy going as long as they could to get as much press as possible.
Video by: Nascar All Out
Average speed was an amazing 135.521 – There were hard tops and convertibles, naturally the hard tops had an aerodynamic advantage.  That was the first and last time a convertible tried running the great american race.  No crashes and not one yellow flag,  The race ran start to Finnish without incident.  Fun Fact: Just over half way in this video you can see the Goodyear blimp, at the first Daytona 500 race!  Not sure if the blimp made it to every 500 since then or not, that's a good one for our trivia people.  1959 Daytona 500 winner…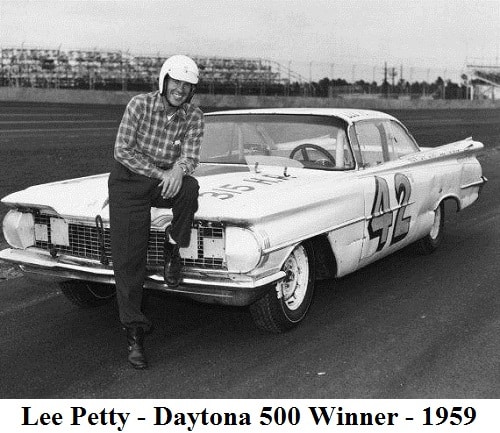 Lee Petty the father of now famous "Richard Petty" was an American stock car driver in the 50s and 60s. He was one of the few pioneers of NASCAR, and one of its first superstars.  In 1959 Lee Petty won a career best 11 races at the age of 45.  Lee went on to race to the age of 50 totaling 16 years of racing.  Lee Petty earned a total of $237,847 in his nascar career.  Then it was Richards turn to carry on the Petty name.  That he did proudly for many years.
---
I am proud to bring you this site, after many years of wondering who won the Daytona 500 in a certain year or how many times did Richard Petty win?  I thought I couldn't possibly be the only one that has a need for a site like this.  So I made it.  If you found this site useful, please link to us or mention us on your racing related web site or social media.  Thank you very much.